SHIRT,LAYERS, BOTTOMS: THE BLACK FRIDAY DEALS WILL CONTINUE AT JACHS NY
Shop These Black Friday Specials at JACHS NY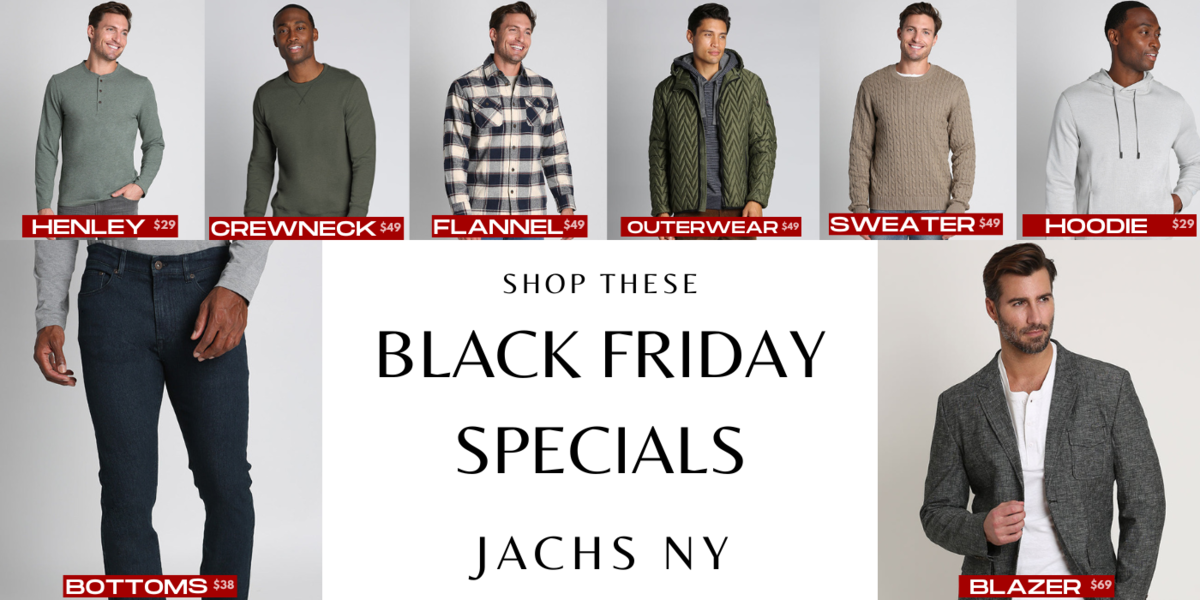 Pull Together a Great Black Friday Outfit
The holiday season is a great time to show off the fantastic deals you scored at our Black Friday Sale. So let's look at a couple of possible holiday-worthy outfits. We've chosen outfits that are perfect for two common holiday gatherings.
BLACK FRIDAY SALES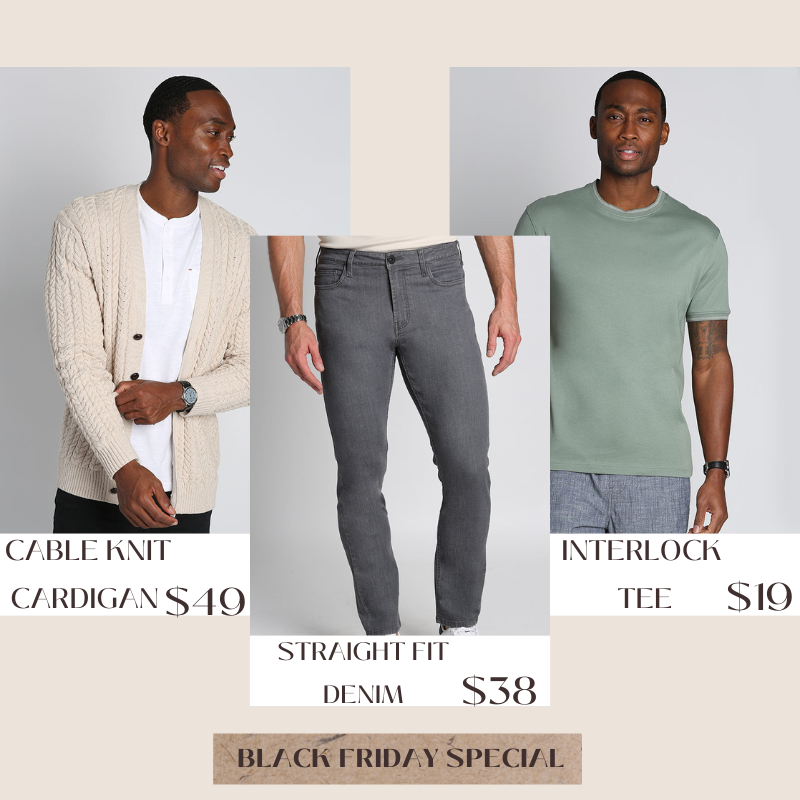 A Casual Gathering
Let's start with the basics you'll need for any casual holiday gathering — denim pants and a comfortable tee. These
grey gentleman's denim pants
are from our Special Denim Capsule Collection with its custom metal hardware so you
know
they're fit for holiday festivities. They're made from a 64% cotton, 34% tencel, and 2% spandex fabric that offers a comfortable amount of stretch. You'll really appreciate that stretchiness when the holiday treats are passed around!
Pair them with a
comfy tee
like this one in a soft green. The classic fit features a unique 100% cotton interlock design that gives it modern flair. Too cool out for just a tee? Top it with this
cable knit cardigan
in a versatile ivory color. It's crafted from a 85% cotton, 15% linen blend for a classic fit.
All 3 great-looking pieces total just $106 at our Black Friday prices.
SHOP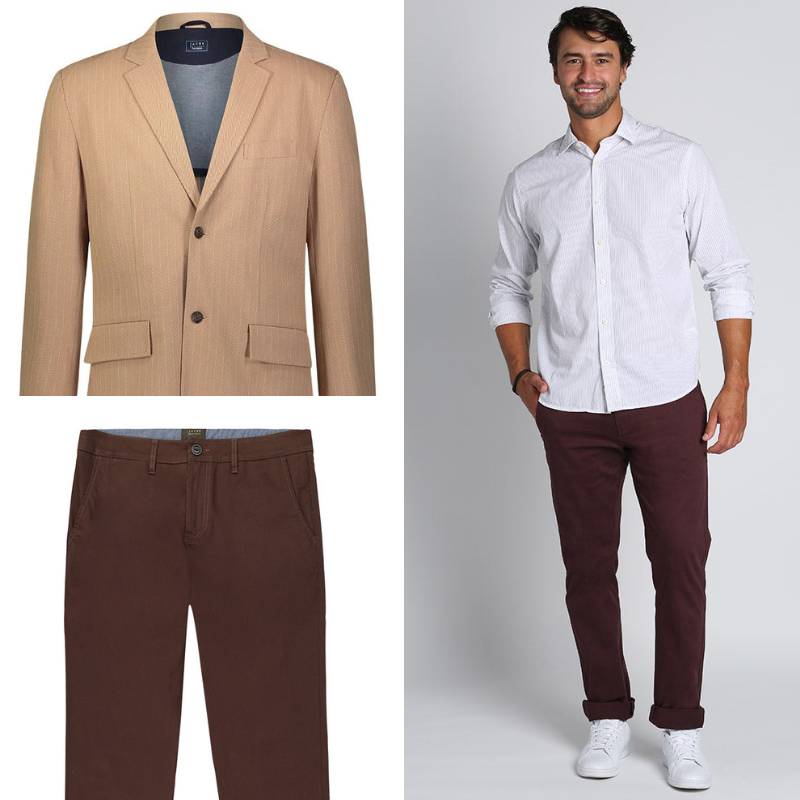 A Dressier Affair
Who says you can't be stylish
and
comfortable? Not us! That's why we're suggesting this outfit for when denim pants and a tee just won't do but you're still craving comfort. This pair of
brown straight fit bowie chinos
are made from a stretchy blend fabric with a beautiful and unique sateen finish. These chinos with their classic straight fit are supremely soft and comfortable. They look as good as they feel, too!
Pair your new chinos with a classic
laundered dress shirt
in breathable 100% cotton. This white shirt with its fine blue stripes has a button down collar and comes with a matching bag for those holiday trips.
Top it off with a tan
striped herringbone blazer
for a classic (and classy!) look this holiday season. This two button windowpane blazer is made with cotton and spandex for just enough stretch. It features a double vent in the back, notched lapels, and functional buttonholes. A chest pocket on the left side, two side pockets, and three inner pockets gives you plenty of places to stash your essentials.
This classy 3-piece outfit will set you back a modest $136 at our Black Friday Sale.
SHOP
Black Friday at JACHS NY
With pieces like these available at our fantastic Black Friday deals, isn't it time for you to put together a few outfits of your own? Fortunately for you, at JACHS NY we don't believe that Black Friday should be limited to just one day. So get shopping!
SHOP BLACK FRIDAY DEALS